PROJECT ACTIVITIES
NEW-PROJECT ACTIVITIES 2013/2014
NCDO has secured funding for the year 2013/2014 for both water and education activities. The two projects are sponsered by WATER FOR ALL and CISU respectively. The water activities involves construction and distribution of bio-sand water filters in Kachipo/ Jongole states where over five hundred people are going to benefit from the project. NCDO will construct and distribute 200 biosand water filters and train the communities on how to use and maintain the filters.
The education program mainly focuses on special needs education in Yei county. NCDO has so far conducted capacity building training for its own staff, MoE and other stakeholders like Payam school suppervisors, teachers and NGOs.
A feasibility study has also been carried out to map the actors in the field of SNE/IE in Yei. see full report here of the study here. for more information please contact NCDO management!
OLD-PROJECT ACTIVITIES
NCDO has multi programs namely water and sanitation, education, community training and sensitization. However, Water program is the biggest of all projects followed by Education that now has drawn the interest of other donors and friends in supporting it. All the activities carried are ment to bring about restoration, peace and unity among all the people of South Kordofan. NCDO has capable staff who are committed to their calling and service for the people. More details of all the program activites are as seen in the different heading below.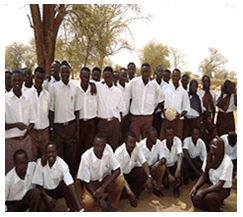 ONE OF THE PROJECT ACTIVITIES IS EDUCATION!
NCDO has newly introduced the secondary education following the request from the community and some students who study in the existing english schools in south Kordofan. The school now has 50 students who came from the two counties of Dilling and Lagawa. NCDO brought in 6 teachers from South Sudan who are currently running the school. The school is sharing one of the nursery school classes for the moment and it will be moved to its own site after the construction of the structures. NCDO has gotten some friends in Germany who promised to fund for the school construction and the project will start in November 2009. This year the school registered a number of new students from around the two counties of Lagawa and Dilling. The number of students now has reached to over 120 students.